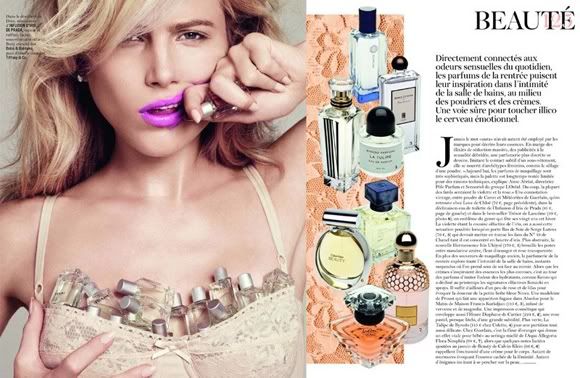 Better than telling me I look good is telling me I smell good. Whatever that means to you, a pleasant fragrance uplifts you throughout the day and it's the least you can do for your neighbor on a rush hour subway ride when you're all packed like sardines. Inspired by the editorial above and Corey's post last week on his favorite fragrances, I've gathered a few of my own...

In collecting the images for each of my fave scents, I've realized that the common scent is patchouli and spicy blends.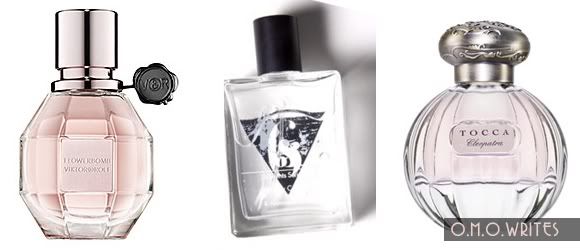 FlowerBomb - As you can guess from the name it's floral and an explosion of such. Jasmine, Orchid, Fressia and Rose combine with Patchouli for a Oriental and gourmand blend. The latter is the newest category in fragrances meaning the fragrance is based in edible notes like honey, vanilla and spices--the true meaning of smelling good enough to eat! 1.7 fl. oz. $100 Sephora

Whiskey Caramelise - The sixth scent by Toga & Alexandra Kosinski in Series Two of Six Scents, is spicy of nutmeg and black current; floral with Patchouli and fruity and oriental with Mandarin. The fragrance was inspired by the designers memory of a bottle of whiskey. Also fitting is that my Go-To drink is "Jack & Ginger!" 1.7 fl. oz. $95 Oak

Tocca's "Cleopatra" - My newest fave, "Cleopatra," is as seductive and powerful as it sounds. Amber, Vanilla Musk, Greens and Patchouli, of course, blend for a calming, floral frangrance. 1.7 fl. oz. $68 Sephora

For your own list of Go-To fragrances, read up on the elements that make up fragrances you like. Look for the commonalities and you're on your way to finding your signature scent!