There's nothing more audacious than scoffing at the all-too-familiar image of the rebel in leather like...wearing vegan leather yourself.
Brice Partouce, the vegan creator of the French denim line April 77, created beautiful rocker jackets that didn't have an ounce of animal product in them. Instead, they're made of waxed cotton.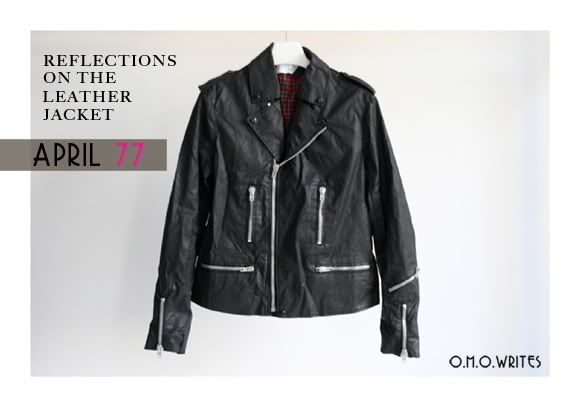 I'm not going to make a case for vegan jackets. I'm actually more interested in revamping the reliable, timeless and albeit, tired leather jacket. Crazy patterns, mixing textures? It'd be refreshing to see a direction other than black leather.
Thankfully, Topman's got something up their sleeve with a biker jacket from their
collaboration with Dexter Wong
. Made from nylon it made me more excited about a biker jacket than I've been in a long time.
Another interesting idea has come from
Dr. Romanelli
. Constructed from vintage military field shirts, the moto jacket doesn't get any fresher.
I'm forever a fan of a good leather jacket. It's essential. However, it's time for something new to keep us on our toes and dancing. Are you on your feet yet?

posted by jeggi elinzano