Another pillar of the Black community and power player in the fashion industry has passed away.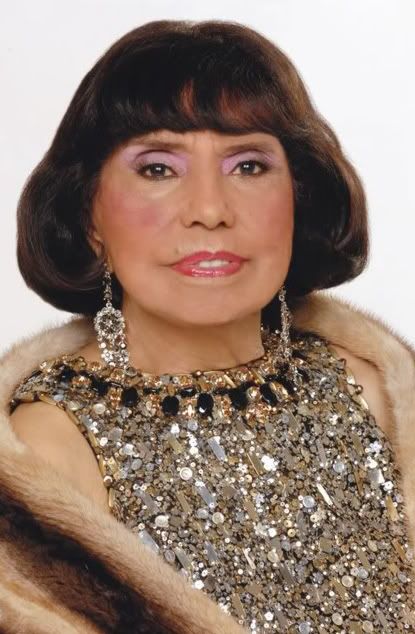 This is what 90 looks like. Her mug is STAMPED!
Grace, style, and tenacity are probably the three best words to describe Mrs. Eunice Johnson. She, alongside her husband John H. Johnson, became publishing powers in the 1960s with the development of Jet and Ebony magazines. Mrs. Johnson was also the creator and director/producer of Ebony Fashion Fair fashion shows since 1961. The traveling fashion show gave Pat Cleveland her first chance, supported Black designers like B Michael and Tracy Reese and raised and donated over $55 million to charity.
Johnson also introduced designers like Yves Saint Laurent and Bill Blass to the Black community who were thought to be unable to afford such luxuries. In its beginning stages, designers would not lend clothes for Fashion Fair events. She one-upped them by flying to Paris,Milan, wherever and bought the pieces she wanted for the shows. THAT'S power! From this, the uber successful Fashion Fair cosmetic line was birthed.
Last week, the Metropolitan Museum of Art feted Mrs. Johnson and honored her legacy. The luncheon was planned months ago, but took on a deeper meaning due to her passing. Anna Wintour, Michaela Angela Davis, Veronica Webb, amongst others looked on as Bill Clinton and President Barack Obama (via Desiree Rogers) delivered the keynote addresses.
On a personal note, Jet and Ebony were always in my house growing up. Without realizing, they instilled in me that Black is indeed beautiful and that we were included in the fabric of the fashion industry. I knew that whatever I did in fashion, that Fashion Fair was always a safe haven. Mrs. Johnson reached for the stars, played hardball when she had to and did it all with a chic bob and a mean pout. I could never thank her enough for the role that she indirectly played in my life and her drive that has forever etched her name in American history.
Thank you Mrs. Eunice Johnson.
-Steph