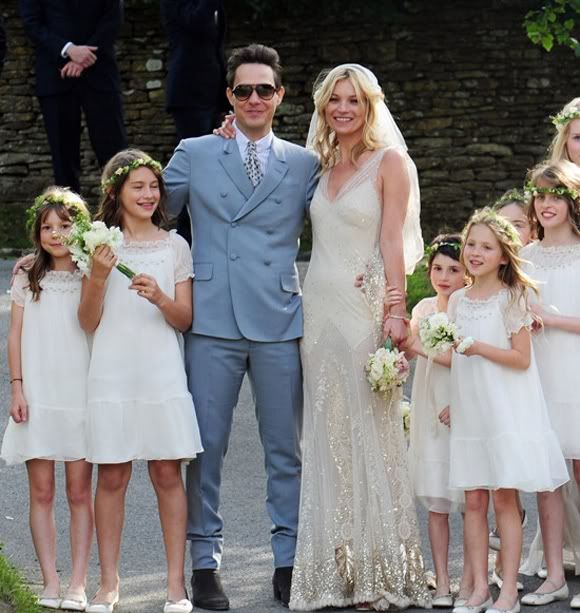 Everyone's favorite model, Kate Moss, has finally tied the knot with on-again-off-again main squeeze, Jamie Hince of The Kills.

Nothing short of what we'd expect of an always effortelessly fashionable icon, Moss' wedding dress was designed by John Galliano and shoes by Manolo Blanik with "something blue" inside. Hince wore a suit, tailored skinny, by YSL's Stefano Pilati as are all his looks for their 3-day celebration.

Would Kate Moss put her bridemaids in dresses from hell? Of course not! They all wore simple shifts and slippers, instead! And just when I posted about how wonderful and fresh a floral garland would be, leave it to Moss to stay on trend, topping the bridesmaids off with one as well.

Mario Testino was said to have shot the wedding, images of which are to appear in Vogue's September issue [fingers crossed]. //SOURCE//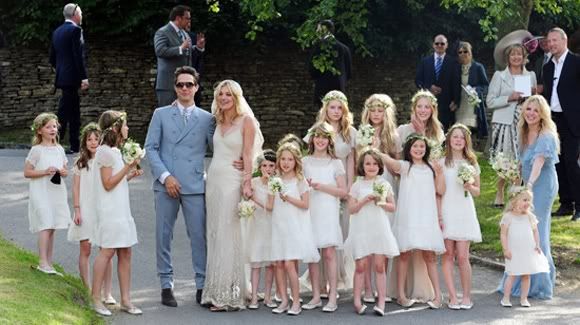 Besides the fashion of it all, let's take a personal look at the fact that Moss is 37 and Hince, 42. //SOURCE// While the couple seemingly took their time to figure things out over the last 4 years, I def always look to solidyfy things short of nuptuals super early on in my relationships and I'm only 25!

I could stand to take a tip from Kate and any other women out there who know how to go with the flow and trust that things will happen as they should...